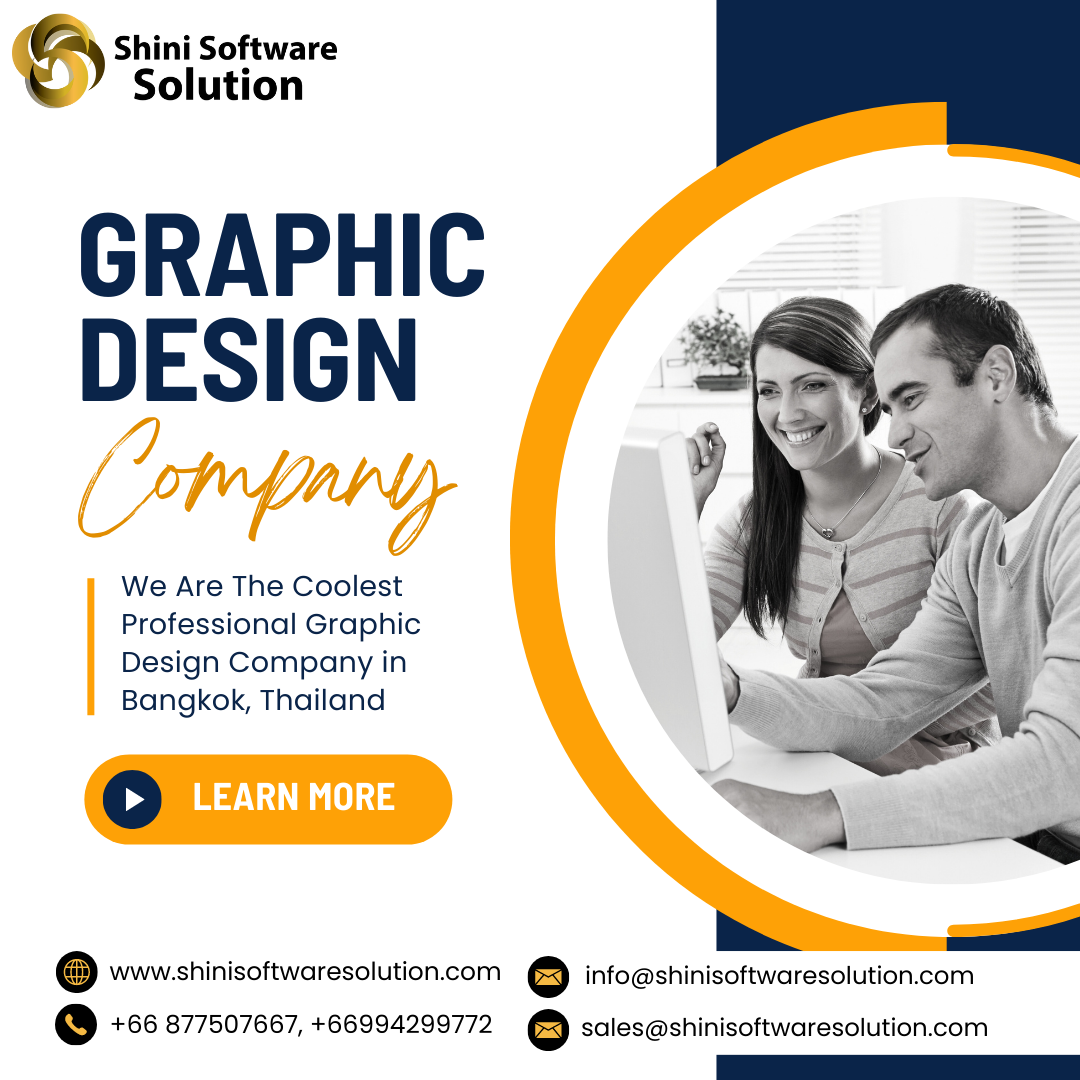 Modern business depends heavily on visual communication to capture audiences' attention and leave a lasting impression. Businesses use graphic design as a powerful tool to communicate their message, brand identity, and values. A leading graphic design company in Bangkok, Shini Software Solution, is one of the most innovative companies in this field.
Setting the Stage:
Thailand's capital, Bangkok, is a melting pot of cultures, ideas, and opportunities.
In such a diverse and competitive environment, businesses must find unique ways to stand out from their competitors. When it comes to developing cutting-edge solutions for a variety of industries, Shini Software Solution excels at delivering the expertise of a skilled graphic design company.
Introducing Shini Software Solution:
For several years, Shini Software Solution has been at the forefront of creative innovation in Bangkok. The company provides a comprehensive range of graphic design services with a team of talented designers, technologists, and marketing experts.
What Sets Shini Software Solution Apart?
Creativity and Innovation: Shini Software Solution thrives on creativity. Their designers possess a keen eye for aesthetics and a passion for pushing the boundaries of imagination. They consistently deliver designs that not only look stunning but also effectively convey the desired message.
Tailored Solutions for Diverse Industries: Recognizing that each industry has unique demands and challenges, Shini Software Solution offers tailor-made graphic design services for businesses in various sectors. Whether it's fashion, technology, healthcare, or hospitality, they have the expertise to create designs that resonate with the target audience.
Brand Identity and Logo Design: Shini Software Solution understands the significance of a strong brand identity. They collaborate closely with clients to design impactful logos and brand visuals that reflect the essence and values of their businesses.
Print and Digital Design: From eye-catching brochures and business cards to engaging website designs and social media graphics, Shini Software Solution seamlessly bridges the gap between print and digital media, ensuring consistent and compelling branding across all platforms.
Responsive and Client-Focused Approach: Shini Software Solution prides itself on its responsive and client-focused approach. They involve clients throughout the design process, welcoming feedback and revisions to ensure utmost satisfaction with the final product.
Unlocking the Potential of Graphic Design:
Shini Software Solution's work exemplifies the transformative power of graphic design. Visual storytelling empowers businesses to tell their stories, captivate audiences, and foster meaningful connections. Shini Software Solution can transform ideas into visually stunning realities whether you're a startup or an established brand looking to refresh its image.
It is impossible to overstate the importance of a skilled graphic design company as businesses strive to create a lasting impact in a visually-driven world. Shini Software Solution continues to guide businesses in unlocking the full potential of graphic design. As a beacon of excellence in Bangkok's graphic design industry, their creativity, innovation, and dedication to client satisfaction stand out.