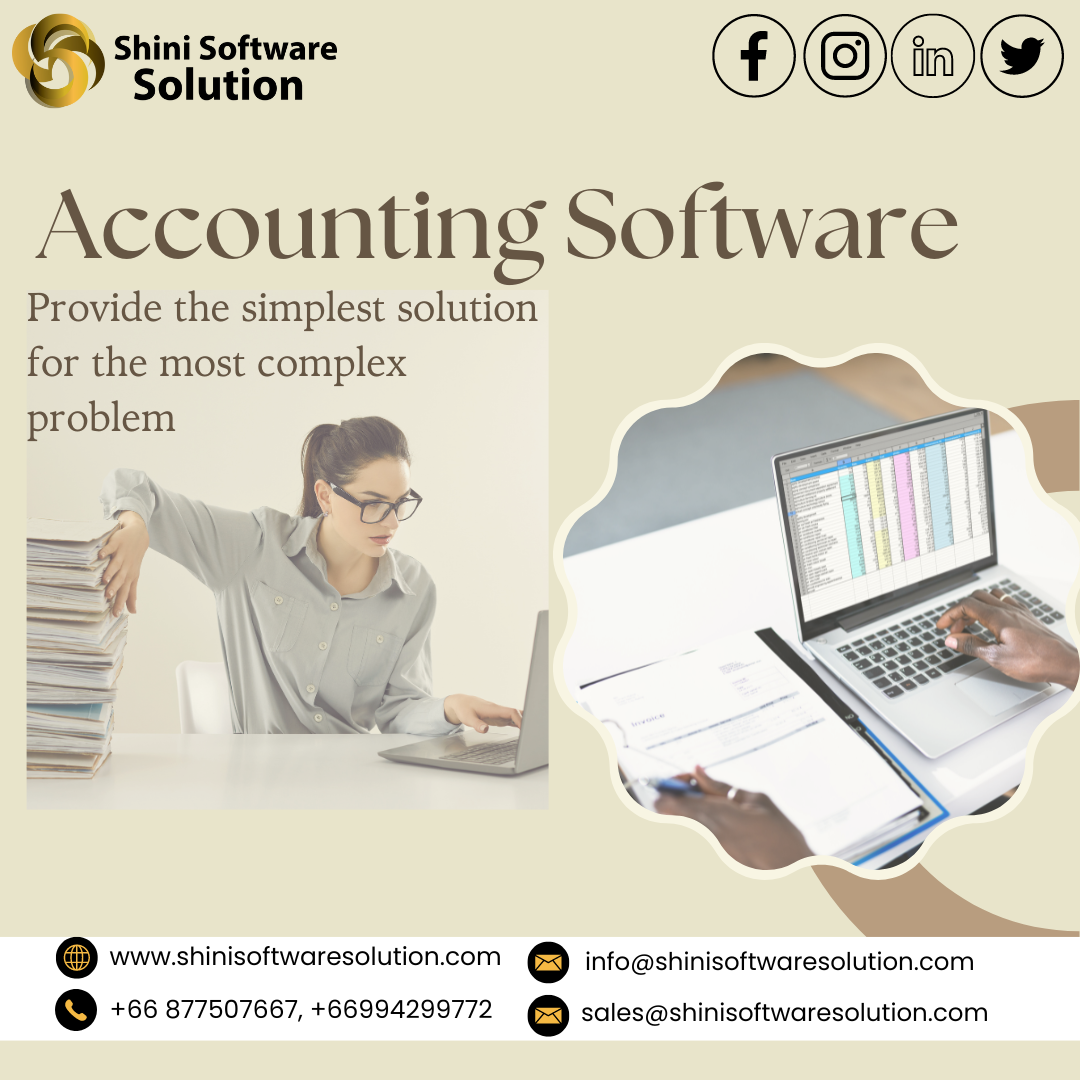 Business success in Bangkok depends on streamlined financial management, where businesses are continually evolving to meet market demands. Accounting processes that are manual often fail to handle the complexity of modern finance, which results in errors and inefficiencies. Through innovation, Shini Software Solution has become a trailblazer in accounting software development in Bangkok.
The Imperative for Accounting Software in Bangkok
Managing finances manually in Bangkok becomes increasingly difficult as businesses grow and diversify. Numerous advantages are offered by accounting software to address this challenge:
Automation and Accuracy:
Shini's accounting software automates mundane and repetitive tasks, minimizing human errors and ensuring precise financial calculations.
Real-time Data Insights:
The software provides real-time access to financial data, allowing businesses to make informed decisions promptly and respond to market changes swiftly.
Time Efficiency:
By streamlining financial processes, Shini's software frees up valuable time for business owners and accountants, enabling them to focus on strategic initiatives.
Compliance and Security:
Shini's software adheres to industry regulations, ensuring compliance with financial reporting standards, and offers robust data security to protect sensitive financial information.
Shini Software Solution – The Pinnacle of Accounting Software Development
A pioneering name in the software development industry, Shini Software Solution is headquartered in Bangkok. Business owners looking to elevate their financial management practices turn to the company for excellence, innovation, and customer satisfaction. How does Shini Software Solution differ from its competitors?
Customization and Scalability:
Understanding that every business has unique accounting needs, Shini's team of experienced developers works closely with clients to create tailor-made software solutions that grow alongside their enterprises.
User-Centric Design:
Shini's accounting software boasts a user-friendly interface, making it easy for clients to navigate and master the system without extensive training.
Integration Capabilities:
Shini's software seamlessly integrates with other business tools and platforms, ensuring a unified ecosystem for streamlined financial operations.
Expertise and Support:
Shini's team comprises not only proficient developers but also financial experts who possess a deep understanding of accounting and finance, providing clients with comprehensive support.
Key Features of Shini's Accounting Software
Accounting software from Shini Software Solution is equipped with powerful features to optimize financial management.
General Ledger Management:
The software efficiently tracks and manages all financial transactions, providing a comprehensive overview of an organization's financial health.
Accounts Payable and Receivable:
Automation simplifies invoice management, payment processing, and debtor tracking, promoting healthier cash flow management.
Financial Reporting:
Shini's software generates customizable financial reports, balance sheets, income statements, and more, providing valuable insights for strategic planning.
Taxation and Compliance:
The software aids businesses in staying compliant with local tax regulations, streamlining tax filing procedures, and minimizing the risk of penalties.
Success Stories of Shini's Accounting Software Implementation
Efficacy of any software is demonstrated by its successful implementation. In this section, we examine real-life case studies of Bangkok businesses that have used Shini's accounting software to transform their financial management practices. Organizations across a variety of industries have benefited from Shini's solutions in tangible ways.
Accounting software from Shini Software Solution enables financial excellence in Bangkok's fast-paced and competitive business landscape. Shini's custom solutions, user-friendly design, and steadfast support have made it a trusted partner for companies looking to optimize their financial management practices. Companies in Bangkok can gain a clear financial advantage with Shini's accounting software, making well-informed decisions, and propelling their growth and success.